June Grass
Genus: Koeleria
Species: cristata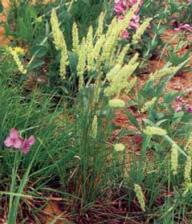 June Grass has pale green-silvery colored flowers. Its lower stems are covered with small hair about .5 inches along the stem. The stem is hollow at the bottom of the plant. June Grass grows to about 1-2 feet, and is a cool season grass commonly found in sandy soil of dry upland prairies and open woods. June Grass grows straight up, has relatively fine leaves and has a shallow root system. June Grass is a long-lived perennial. June Grass has small and skinny leaves. Its flowers look like long fuzzy spikes and bloom in May-July and mostly June.
June Grass likes to grow where there is 10 inches or more annual precipitation. June Grass prefers sandy or coarser soils but will grow on clay loam soils. June Grass will grow in the dry prairies of Midwestern USA.
June Grass can be found growing in sandy or coarser soils. June Grass can survive through very strong winds, snow, and very hot days. This grass can survive through all this because it has a very strong root system.
June Grass is usually eaten by grazing livestock and is also eaten by wild animals during the summer time. Songbirds and small mammals eat the seeds.
June Grass does not cure well and is generally considered only fair forage for fall and winter grazing. June Grass is plentiful in the wild, and can be found growing in Mitchell County, Kansas, Nisku Alberta, prairies, and forest openings.
by Jon N. 2001
---
Bibliography:
"June Grass", http://www.prairieseeds.com/fact junegrass.htm (Friday, November 3, 2000)
"June Grass", http://www.lib.ksu.edu/wildflower/junegrass.html (Friday, November 3, 2000)
"June Grass-Koeleria cristata", http://www.prairienursery.com/species/kcpage.htm (Saturday, November 4, 2000).