Kangaroo Paws
Common Name: Red and Green Kangaroo Paw, Mangles' Kangaroo Paw,
No-la-mara
Genus: Anigozanthos
Species: manglessi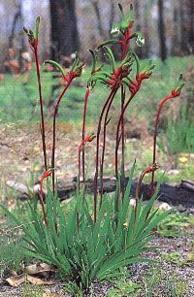 The biennial red and green kangaroo paw is the floral emblem of Western Australia. What really catches the eye is the plants green unscented flowers that can grow up to 10 centimeters long. The green furry flowers are attached to the sturdy red stem. The sturdy stem makes a perfect perch for many birds, and can grow to a meter high. Honey eaters or wattle birds, the pollinators of the plant, are often seen perched drinking the plant's nectar. The stem is attached to the green flattened basal leaves.The leaves of the plant are usually about 30 to 60 centimeters long. The kangaroo paw was given it's name because of the plants bright red ovary and its paw shaped flowers.
The red and green kangaroo paw only occurs naturally in southwest Western Australia. The specific spots are from Shark Bay to Scott's River and at Mt. Barker. It is common around Manjimup, along the Murchison River, Busselton, Lake Muir, and King's Park near Perth. It grows in sandy or gravelly soils in burnt or disturbed areas. When the red and green kangaroo paw is in its natural habitat it flowers between August and October.
The red and green kangaroo paw's adaptations are tiny wooly hairs on its flowers. The little hairs help by making it taste weird to predators, so they won't eat it. The little hairs also help by holding on to water because it grows in a dry climate. It also has adapted by having a sturdy stem for its pollinators to perch on.
The red and green kangaroo paw makes a great plant for the home garden because of its unusual shape and bright colors. They also make great cut flowers because they last long in water. It is also exported to various places around the world. In the U.S.A., Israel, and Japan they are grown commercially.
by Celeste B. 2001
---
Bibliography:
"Plants and Animals Red and Green Kangaroo Paw", http://www.calm.wa.gov.au/plantsanimals/flowerkangaroopaw.html, (11/2/00)
"Floral Emblem of the State of Western Australia", http://ww.mpc.wa.gov.au/emblems/floral.html, (11/2/00)
"Kangaroo Paws", http://155.187.10.12/anigozantos/index.html, (11/1/00)
"Mangles' Kangaroo Paw", http://www.anlog.gov.au/emblems/wa.emblem.html, (11/5/00)