Senegal Gum Acacia
Common Name(s): Gum Arabic, Senegal Gum, Kher, Kumta
Genus: Acacia
Species: senegal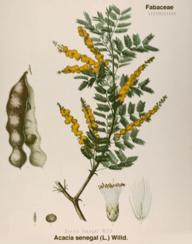 The senegal gum acacia is a small to average sized thorn tree of the African grassland savanna. It can grow up to 20 meters tall. It has many branches that spread out into a flat and rounded top. These branches have many thorns that come in pairs. The leaves are a grey-green color. The flowers are yellow or cream colored and grow on spikes just above the thorns. These flowers turn into seed pods about 8 inches long and 2-3 inches wide. They look like giant dried up pea pods, and are yellowish to brown in color, and flat.
The acacia can live through long periods of drought. They tend to grow in sandy places where there is only between 12 to 15 inches of rain a year. Periods without rain can last from 5 to 11 months a year.
When the rainy season ends the trunk of the acacia begins to ooze sap, or gum. This gum is collected from December to June and is used to make gum Arabic. Gum Arabic is used in making medicine. It is used to make a cream for skin inflammations and ailments of the respiratory and urinary tracts. Its also used for coughs, sore throats, eyewash, diarrhea, and dysentery. It is also used as flavoring in certain soda (pop).
The acacia provides shade and shelter for the animals of the savanna. Giraffes, antelopes and elephants eat its leaves, and birds make their nests in its branches and use them as perches to look out over the flat grasslands.
Acacia was considered sacred by the ancient Hebrew. It is said that Moses used acacia wood to build the Ark of the Covenant and the sacred Tabernacle (Exodus, chapters 25-40). Legend also has it that the thorns of the acacia were used for Christ's crown of thorns.
---
bibliography:
"Acacia senegal",
http://www.hort.purdue.edu/newcrop/duke_energy/Acacia_senegal. html
"Acacia senegal",
http://www.winrock.org/forestry/factpub/FACTSH/A_senegal.html